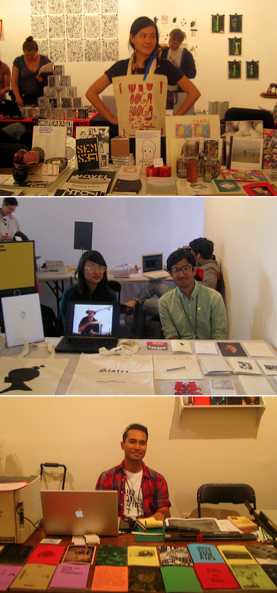 Above, from top: Vendors for Ooga Booga, Sister, and The Holster, at the 2009 NY Art Book Fair, PS1, Queens NY. Photos taken by Martine Syms, Golden Age, Chicago IL.
In 2004 the New York Times Magazine's annual Year in Ideas issue included an entry for the "Anti-Concept Concept Store," which detailed a series of "guerrilla stores" Comme des Garçons had opened in "hip, yet-to-be-gentrified areas in cities around the world, including Berlin, Barcelona, Helsinki, Singapore, Stockholm, Ljubljana, and Warsaw." The article continues to describe the shops, "which are installed in raw urban spaces," and their inventory: "'seasonless' merchandise drawn from current and past collections." Comme des Garçons would keep the shops open for a single year, and then close up and move on. The new format enabled "companies to tap into new markets at low cost" and "to reduce inventory by recycling old merchandise. The pop-up shop, at least in contemporary retailing circles, was born.
But pop-up shops, by another name, are as old as human society itself. As long as we've been gathering in urban spaces we have built markets to trade, and those markets have sustained nomadic, made-to-order commerce, a mentality of sink-or-swim success, the re-trading or recycling of used goods, and the aspirational promise of buying one's way into a better life. The bazaar seller, the flea marketeer, and the street hawker all run pop-up shops, as do the pushcart vendor, the stadium winger, the traveling salesman, the Avon girl, and the Good Humor man. Tupperware Parties are pop-up shops. So are book signings and lemonade stands.
Shops are public spaces. For each of its objects available for sale, a value is assigned. Together, a shop's setting and prices help its objects to become socialized. We collectively answer questions like: Which objects do we value and why? What can we do with these objects once they've entered our community? How do the objects gathered here represent us? The shop is a natural habitat for design.
Shops use a variety of displays to present present design objects and make those objects attractive and appealing to the public. One of the most common types of display is the table, which allows a range of objects to be placed in a common space. Tables are also often used as work surfaces. And tables are social spaces as well: we dine at a common table, or take meetings across a desk. Because tables are in such frequent use, they are active and informal spaces. We generally consider our activities at tables to be everyday activities.
The table is a horizontal space, and it is a flat space, both in shape and in hierarchy. It places all objects on the same plane, ranks them equally, and includes our own bodies among them. When surfaces don't abide by these simple principles, they become something else. Surfaces higher than our shoulders are shelves. Surfaces that create vertical hierarchies are partitions or walls.
While most shops employ tables as a common type of display, one type of shop does not: the art gallery. In the gallery, the primary mode of display is vertical. Instead of facing one another, the typical gallery rearranges its objects to face us directly. In the gallery, we do not physically interact with objects, we look at them. Rather than hold the things we find there, we behold them.
I neglected to include another forerunner to the pop-up shop in my list above: the trade fair. The trade fair, swap meet, or sales convention typically arranges its sellers for a limited time — a week, a weekend, a holiday — along rows of endless tabletops. To house vendors in the manner they're accustomed, large halls and ballroom-like spaces are built.
Your MFA exhibition is in one such ballroom: the Rhode Island Convention Center, in downtown Providence. Presenting art objects in this context requires a serious reformation of the existing space. Partitions are brought in, lights are hung, vitrines are built, and the space is transformed into a large-format gallery. The final mode of the MFA exhibition is quite far from its original one. Rather than rows of tables, we find a maze of walls. And rather than presenting objects for sale, we find objects presented for appreciation and contemplation.
Together over the next several weeks, we will work to understand how these two modes for the Convention Center space — first as a trade fair, then as an art gallery — could be mixed, mashed, questioned, and blurred. As part of this effort, we will design and construct a pop-up shop and present it as a space within your existing MFA exhibition. To stock the shop, each of you will adapt portions from your thesis research into an object for sale. These can be anything: a book, a zine, a button, a t-shirt, etc. Beside the issues of presentation, context, and display raised by the store, your creation of an object for sale to the public will ask you to consider your thesis work within a broader field of design production, estimate what the value of that production might be, and anticipate the public's reaction to that valuation. Put bluntly, the production of a design object for sale in a shop will bring your work from the ivory tower to the market square.
Alongside the objects you present for sale, you may present vintage objects for resale that deepen, enhance, or complicate the objects you have made. Each of you must resolve for yourselves what you will produce, how much of it you will make, and how to price it. Together, you must also resolve the mechanics of the shop itself: how the table is laid out, how payments will work, etc.
Like any serious shop, ours will have a business plan. Consider this your project brief and objectives, or, alternately, my expectations for you.
Your shop will be:
01. Based on a tabletop as its primary surface
02. Easily moveable
03. Available in at least three different cities including Providence and NYC
04. Ready for setup and takedown in 60 minutes or less
05. Reliant on a cash-free checkout process
06. Able to generate $4,000 or more in sales
07. Profitable
08. Featured in the design press
09. Promoted in print and online
10. Fun to conceive, visit, and operate
Good luck, and I look forward to your progress,
RG.
This class was first given in winter 2010 at the Rhode Island School of Design in Providence, RI.
---
Readings
---
Introductory lecture
Slide notes:
02. Grand Bazaar, Istanbul.
03. Market vendors.
04. Street vendor, NYC.
06. Jens Risom's prefab weekend house. More
07. All parts of a Volkswagen Beetle. Via Paul Elliman.
08–09. Alfredo Häberli's office form I.D. Magazine (June 2005). More
10. Moulton Standard bike construction. Via Mark Owens.
12–19. Joyn by Ronan & Erwan Bouroullec for Vitra.
20–24. I.D. Magazine 2008 Annual Design Review, designed by Pure+Applied.
25–38. Super Normal exhibition by Jasper Morrison and Naoto Fukasawa.
39. Mark Owens, invitation to the Free Library.
40. Student portfolio image.
41. Nieves book table. More
42. Herman Miller catalogue
43. Vitra group photo
44. Rough Trade records book, published by Black Dog
45–46. Timeline of London design for the Super Contemporary show at the Design Museum. Designed by Martino Gamper and Bibliotheque. More
48–54. Design Research restoration, Boston. More
55–56. Prada Marfa by Elmgreen and Dragset. More
57. Comme des Garçons popup shop in Warsaw, Poland.
58–62. 2009 NY Art Book Fair.
63–64. Everyday Life Objects Shop by Apartamento Magazine & Reference Library (Milan, 2009).
65–72. Generic Man Pop-Up Store (Los Angeles, 2009).
73–76. Dover Street Market, London.
77-81. Bullseye Bodega by Target (New York, 2008).
82–83. Gagosian Gallery shop (New York, 2009).
84. Parners & Spade (New York, 2008).
85. Apple Store by Apple.