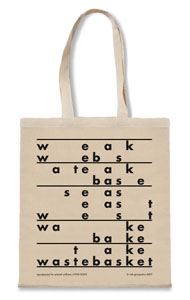 My friend Cindy Heller, wonderful designer of Bidoun magazine and a building mate here at 195 Chrystie Street is doing a great project called Wanderbag. Wanderbag is "a collaborative art project through which artists and small businesses promote greater environmental responsibility." Cindy's asked a handful of friends, artists, and other inspiring folks to design the fronts of cotton tote bags so we've got a fashionable way to use the same bag to go from bookstore to grocery store and back again.
My contribution is an homage to the groundbreaking Concrete poet and Fluxus chronicler Emmett Williams, who passed away this February as Cindy had started asking for submissions. My WASTEBASKET poem (above) works in almost exactly the same way as Emmett's famous poem SWEETHEARTS (the introduction to which was written by none other than Richard Hamilton.
My poem reads, "weak webs / a teak base / seas east west / wake bake / take wastebasket." For further reading on Williams's work, try starting with this interview from Hans Ulrich Obrist. Designers may also find it interesting that one of his poems comes up prominently at the end of this interview with Experimental Jetset (PDF). Williams's work has been very influential for me, and I'm sure for many more. He will be missed.