I'm a fun-maximizer. Work is hard, but I work hardest when I'm having fun. When I joined Project Projects five years ago it was really fun. We were five people in a shared office. The server was held together with tape. But we worked our asses off. We got a new office. We grew to 18 people. It was still fun. We created identities for museums and academic programs. We invented original and compelling interactive projects for artists, architects, philosophers, and publications. We made engaging spaces. We developed complex identities and strategies. We did challenging books and editorial work. We contemplated the cultural possibilities for new tools. We worked globally and locally. We spoke and wrote and taught and advocated for design with our clients and beyond. We hustled and hustled – eventually, we all started to need to find fun in new places.
Prem started a gallery, and he started having more fun. Adam started an independent press, and he started having more fun too. I got a chance to spend six months in Rome writing, collaborating, and learning with some of the most intelligent, talented, and creative people I have ever met. That was a hell of a lot of fun. I am a really lucky guy.
At a certain point out on my own, I realized I wanted to stay out on my own. I wish the team at Project Projects all the best. They are so talented and I have learned tremendously from each of them. I'm grateful to have been a part of the studio. In Italian, "ciao" can be used for both hello and goodbye. I think this is great. Ciao Project Projects – it was fun while it lasted.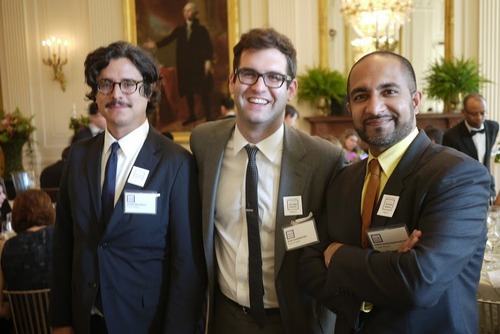 Above: Adam, Prem, and I at Michelle Obama's National Design Awards luncheon at the White House in 2011.