01-11-2023, 5:50AM, Mountain View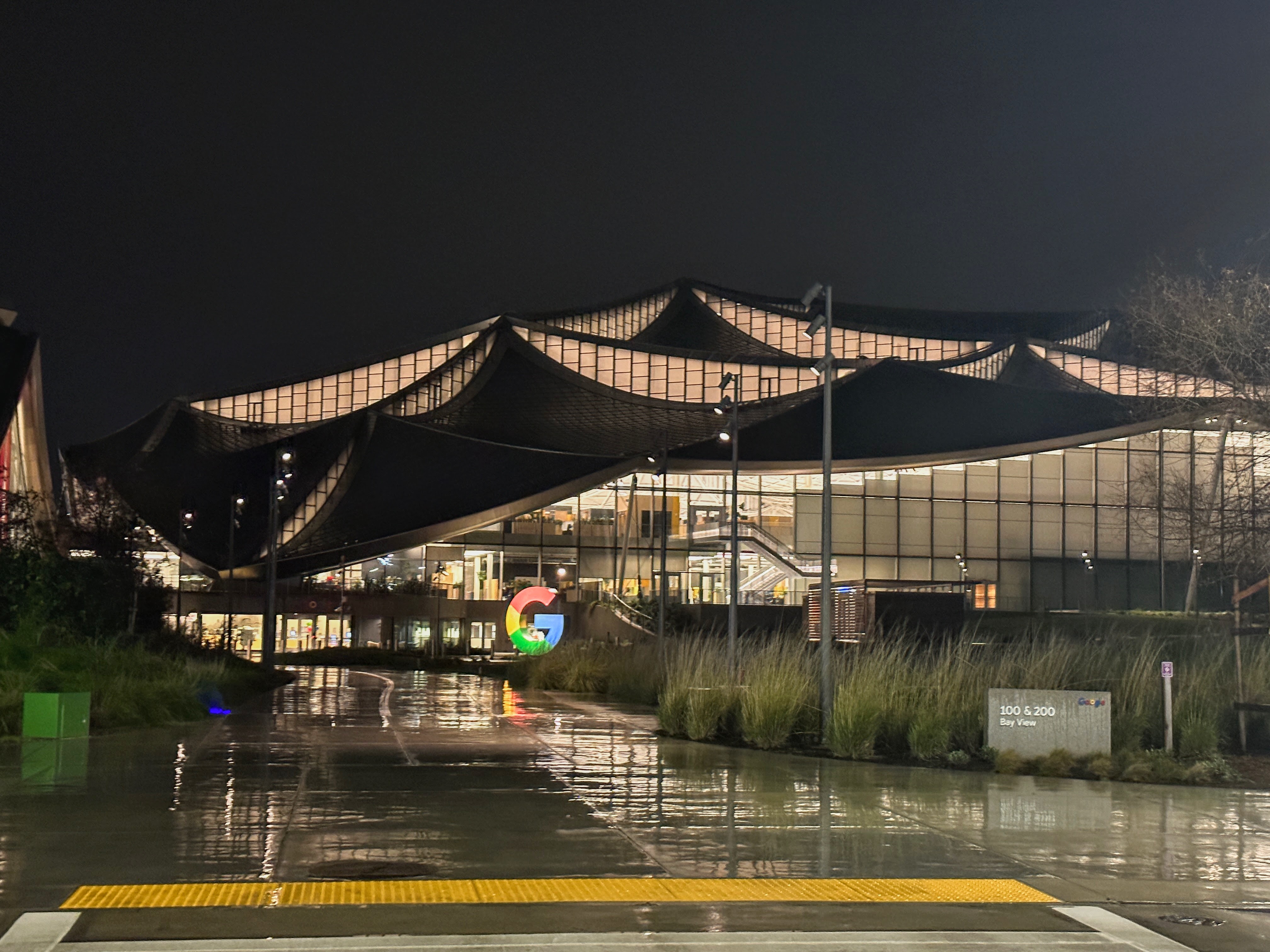 Friday was my last day at Google. Like 12,000 others, me and many of my talented colleagues from Google's Insight+Innovation team were let go. With our access cut off suddenly and unexpectedly in the early hours (I'd worked past 10 on Thursday night to prep a presentation for review the following morning), many of us rushed to share our news in public and private ways, offering support to one another, and taking a moment to thank, acknowledge, and send good wishes to our teammates. With work services disabled, other messaging services rapidly proliferated: iMessage, Discord, WhatsApp, LinkedIn, Twitter, Mastodon, Signal. But what about here? I didn't have an image to post. Pictures of work? Pictures of colleagues? A graphic message? I wondered what the last image I'd taken at work was, and decided to check.
In early January, I was asked to come to SF for a business-critical planning offsite and found no hotels available under our travel cap (there was a JPMorgan Healthcare Conference that had overrun downtown SF), so a Research Director on our team suggested giving one of the new Googler-only hotels near our Mountain View campus a try. The rooms looked nice and the price was unbeatable, so I booked it. As my cab pulled up the first night, I found it was both charmingly crafted and surprisingly provisional, popped up inside the shell of a parking garage near NASA's Ames Research Center. What stopped me in my tracks, though, was the building across the street — the brand-new Bjarke Ingels / Thomas Heatherwick building, a bold 1.1-million-square-foot bet on a carbon-negative future of the office with 50,000 silver solar panels capable of generating 7 megawatts of energy recently completed in May. The last time I'd been this close to the site, it was still mostly a dirt pile. Immediately I was reminded of Bucky's domes, Disney's EPCOT, IBM's '64 Worlds Fair pavilion, and Barnum's big top. Like Google itself, its ambition was unmatched, its scale beguiling, its optimism infectious. As soon as I arrived, I wanted to get a good pic.
The problem was all the rain — it had been pouring for days, and wouldn't stop the whole trip. Flash floods, bomb cyclones, and so many Californians displaced and disoriented. On multiple days, our video calls were interrupted because no one could hear one another over thunder claps. There were uneasy jokes about the "end times," but we also had business headwinds on our minds.
By Wednesday, I realized the rain wasn't going to to stop. I found a hotel closer to our SF meeting space for the final sessions, and I snapped this pic in driving rain as I waited for my Lyft to show up for what would be my last morning on campus. The "super G," one element of a brand overhaul I'd been a small part of delivering while on the Material Design team in 2015, shines brightly in the darkness. In the bright energy-efficient LEDs of new buildings at that early hour, I saw a few colleagues roaming the halls. 01-11-2023, 5:50AM, Mountain View.
The storms continued through Saturday, and we were warned there would be turbulence as we cleared the Rockies on the flight home. Since then, I've reflected on my almost 5 years at Google. An exciting and lively ride for sure — and an incredible learning experience, honor, and catalyst for relationships I'll cherish forever. One of the last spirited meetings on Wednesday before I left was with a colleague trying to balance his outlook for the year. "As an employee…" he began, "…yet as a shareholder…" he continued. And back and forth.
Now that I'm just a shareholder, I suppose I understand how the offering of 12,000 souls to the gods of the market can do something to bring a short-term renewal to the business. What's done is done. Why these 12,000 were chosen, and myself among them, I don't think I'll ever really know. What I do know is that our team had passionately investigated, outlined, and championed projects that would help Google evolve in ways that we were sure users would love. I'm sad that effort ended for me on Friday. I'll mourn, to summarize one of my talented colleague's later reflections, the future that could have been. In my eyes, our voices were among those Google needed most. My heart goes out to everyone affected by these decisions.
Anyway, I found my photo. Dawn of a new day. A large project complete. Storm clouds overhead. Unmatched potential. Lights on despite the hour, blazing bright.